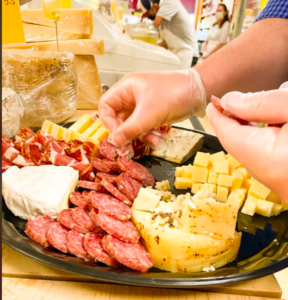 Whatever you may be celebrating, we're excited and ready to help you make it amazing, delicious, and memorable!
How much do we love catering? Let us count the ways. We love catering your wedding, Bar Mitzvah, going away, coming home, new home loan and mortgage retirement. We'll cater your personal retirement, new hires, corporate retreat, company outing, client meeting and officer offsite. You name the time and place, and we'll stuff you so full of delicious, artisanal food, you'll feel like a piñata ready for beating.
As purveyors of fine food, wine and cheese, we invite you to consider us in helping you create the menu for your next social gathering.
Before placing your order please inform your server if a person in your party has a food allergy.
All salads are priced per person and we ask for a minimum order of six people
Caesar Salad – Romaine Lettuce served with,shaved Parmesan, home made croutons and garlic& lemon dressing $3.99 p.p.
Beets and Blue – A classic combination of earthybeets paired with blue cheese, toasted walnuts and
greens served with white balsamic vinaigrette
$3.99 p.p.
Spinach – Fresh peppery spinach with bacon, shaved red onions, homemade croutons, hard boiled eggs and a red wine dressing $3.99 p.p.
Chef Salad – A bed of green leaf lettuce with hard boiled eggs, turkey, Beachwood smoked ham, provolone cheese, grape tomatoes and cucumbers with a white wine dressing $3.99 p.p.
$11.50 per quart
Hungarian Mushroom Carrot Ginger
French Onion Vichyssoise
Gazpacho Tomato Feta
White Bean & Escarole Chicken Tortilla
Apple & Butternut Squash Chicken Tortellini
New England Clam Chowder
All entrees are priced per pound and we ask for a
minimum order of two pounds
Beef Bourguignon – Braised beef with carrots, onions, wine, stock and fresh herbs. $16.99/lb
Chicken Marabella – Chicken beast marinated with capers, olives, prunes, oregano, and garlic, the pan roasted and deglazed with white wine, chicken stock and brown sugar $12.99/lb
Pan Roasted Salmon with Grilled Lemon & Dill Butter* – Pan seared salmon fillets finished in the oven with grilled lemon wedges and a dill mustard butter sauce $22.99/lb
Roasted Pork Loin with Figs and Maytag Blue Cheese *- Brined pork loin roast with figs and chicken stock, finished with pieces of Maytag blue cheese $12.99/lb
Braised Chuck Roast – Boneless chuck pieces caramelized and braised with tomatoes, onion, fennel seeds, garlic, red pepper flakes, wine and beef stock $16.99/lb
Lasagna – It's your choice: delicious meat lasagna with a flavorful ricotta sauce or a grilled vegetable lasagna with herbed ricotta $49.99/tray
Filet Mignon* – The king of steaks, a meltingly tender cut from the tenderloin served with sautéed mushrooms, thyme, Madeira and beef jus. Market Price ved with sautéed mushrooms, thyme, Madeira and beef jus. Market Price
*Consuming raw or undercooked meats, poultry, seafood, shellfish or eggs may increase your risk of foodborne illness
All sides are priced per pound and we ask for a
minimum order of two pounds
Rosemary & Thyme Roasted Potatoes with Onions & Bacon $8.99/lb
Mashed Parsnips $6.99/lb
Balsamic Grilled Asparagus $8.99/lb
Wild Rice Pilaf with Cranberries, Almonds & Mushrooms $16.99/lb
Sweet Potato Soufflé $8.99/lb
Brussels Sprouts with Apple Cider, Bacon and Onions $8.99/lb
Braised Carrots with Ginger $6.99/lb
Carolina Style Cole Slaw $6.99/lb
Haricot Vert with Sautéed Onions and Almonds $10.99/lb
Roasted Seasonal Vegetable Medley $8.99/lb
Cider & Maple Glazed Butternut Squash $6.99/lb
Crimini Mushroom Risotto $10.99/lb
Potato & Celery Root Gratin $8.99/lb
Roasted Asparagus with Asiago Cheese & Toasted Pine Nuts $10.99/lb
All appetizers are priced per dozen and we ask for a minimum order of two dozen per item
Fresh Herb & Parmesan Stuffed Mushroom Caps $14.99
Thai Style Chicken Satay – Served with a spicy peanut sauce $16.99
Prosciutto Wrapped Asparagus – Served with a whole grain mustard crème fraiche sauce $18.99
Goat Cheese & Caramelized Leek Tarts $14.99
Bacon Wrapped Dates Stuffed with Parmesan –- Served with Balsamic Glaze $23.99
Mini Crab Cakes – Served with house made tartar sauce $23.99
Arancini – Mozzarella stuffed risotto balls served with a spicy tomato sauce $14.99
Zucchini Latkes – Served with lemon dill sour cream & scallions $12.99
Pissaladierra – Caramelized onions on top of puff pastry with olive tapenade & melted Gruyere $14.99
Shrimp Cocktail – Poached & chilled large shrimp served with house made cocktail sauce & fresh lemons $23.99
Our base platter feeds up to 10 people, and are priced based on 10 people. Example: Cheese base platter, feeds up to 10 people $50-$70 depending on type and amount of cheese. Charcuterie base platter, feeds up to 10 people $70.  All groups over 10 will be priced and portioned accordingly. 
Cheese Platters – A selection of four to six perfectly aged international & domestic cheeses beautifully garnished and served with an assortment of bread and crackers $5-7 p.p.
Charcuterie Platter – A hand picked selection of four to six different styles of dry cured meats from around the world served with cornichons and an assortment of
bread & crackers. $7.00 p.p.
Sandwich Platter – Choose an assortment from our menu of favorites or create your own selection. $8.00 p.p.
Antipasti Platter – A delicious selection of different styles of antipasti served with an assortment of bread & crackers. $7.00 p.p.
Cookie & Pastry Sampler – An assortment of cookies, brownies and petit fours to complete your meal. $3.50 p.p.