Ahhh, warmth and sunlight, at long last! Outdoor grilling, picnics by the lake, warm evenings on the front porch, gardens displaying a riot of color. When this happens, summmery beers start taking over my 'fridge, and white wine and lighter reds start taking over my wine cellar. Let's see what's new…
When in Rioja…
Back in March, when I was in the Rioja region of Spain, the folks at the Martinez Lacuesta winery treated us to fabulous meals with a bounty of appetizers, fish and meat dishes and desserts. When in Rioja, one naturally speaks of red wine; Rioja whites,while quite delicious, take a definite back seat to red wines. Each course we ate was accompanied by a different wine, all of them red.
2008 Crianza, Bodegas Martinez Lacuesta
This is what the winemakers drink every day, while waiting for their Reserva and Grand Reserva to mature. The Bodegas describes this wine as "…Aged in new and semi-new American oak casks for a period of 18 months, rounded off with a few more months in the bottle. A tasty and well structured wine, deep black-cherry colour, a fruity taste and an elegant finish with perfectly integrated sensations of oakiness. Highly recommended to accompany white or red meat, game or mature cheeses…" $16.99.
Great Zin Find
2012 Zinfandel, River Star Winery
The winemaker describes it as "…clear ruby red color and sensual nose of blueberry with slight floral & cola notes. It owns a slightly spicy taste of almonds along with wild berries and soft tannins. Your palate will enjoy the long smooth finish…", and suggests pairing it with beef stew, grilled pizza and Mexican food. This is one of the lightest and softest Zins we have tasted, more like a heavyweight Sangiovese or Primitivo, and we feature this wine in our Case of the Month Club selection. $15.99.
Case of the Month Club — No Membership Required
Two bottles each of the following:
•2014 Familie Gonnet "La Jeanette", Ventoux, France
• 2012 River Star Vineyards Zinfandel, CA 2013 Ponte Vinho Verde (100% Loureiro), Portugal
• 2012 Markus Huber Gruner Veltliner, Austria 2013 Bodegas Muga Rosé, Rioja, Spain
• 2013 Domaine de la Citadelle Rosé "Le Châtaignier", Luberon, France
A $171.88 value if purchased separately; $140 newsletter price until the end of July.
Call Mike or Pete at 978 369-5778 and we'll hold one for you!
Beer of the Month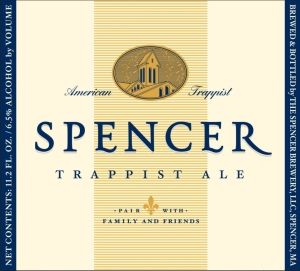 St. Joseph's Abbey,
Spencer, Mass.
It pours a hazy gold-amber, with a rather large, lacy off-white head. Tons of clove, banana and lots of yeasty goodness in the nose. Wheat and grainy malt on the palate, with fruity overtones and spice undertones from the yeast (no spices used!). Highly attenuated dryness and light bitterness on the finish. The brewers describe it as "…a full-bodied, golden-hued ale with fruity accents, a dry finish and light hop bitterness. The beer is unfiltered and unpasteurized, preserving live yeast that naturally carbonates the beer in the bottle and keg and contributes to the beer flavor and aroma…" A great debut for these brewers!
11.2 oz, crown-capped. $4.99/single, $18.99/4-pack (free Spencer Abbey glass with purchase of 4-pack, while supplies last).
That's all for now! I'm aiming for getting these out more frequently, as we still have great new wines, beers and ciders rolling in (especially rosés!), so look for more these. Have a great start to your summer! Thanks for reading,
Mike Reilly
The Concord Cheese Shop