One of the best cheese shops anywhere! Plus, one of the most delicious lunch options in downtown Concord from this secret deli in the back of the shop!
Not only does this place carry an extraordinary amount of cheese from all over the world but, the wine selection and sandwiches are legit too! The staff is super helpful
Love this place with its rustic ambiance and excellent selection of cheeses. The wines are also very interesting, and the person in charge exceedingly knowledgeable and passionate about the wines he chooses.
Of all the specialty cheese/gourmet shops I've visited in New England, this is far and away the best. You take a number, and when it comes up you have the full attention of your cheesemonger until you have everything you need. They are only focused on you.
Love the variety of other pairing items like breads, jams, candies, wines, etc…The staff was incredibly nice and knowledgeable. When I walked in, was greeted with a warm smile, offered samples and informed about a few of the seasonal cheeses just in
You know you are a cheese lover when you're drooling over a 400-lb slab of cheese. Or maybe you're just really hungry.
Best cheese shop around. Unlimited selection and employees knowledgeable. Cute one of a kind store and would recommend to anyone visiting Concord Center.
Check out videos about the shop, cheese, and more
Simply put, we love food, we love to eat; we believe these are passions to be shared with our customers.  Whether you're a regular or a delightful stranger, curious about cheese, charcuterie, our carefully curated wine selection, or preprepared meals, we're thrilled to have you as a visitor in our little shop.   We've been chugging along in the heart of Concord since 1967, striving every day to evolve but also maintain the integrity of the shop as it was from the onset.  We're a modest cozy place, and we like to move methodically (to that end, we appreciate your patience)!  Whenever you visit, we hope you will browse, taste, smell, taste again, and maybe order a sandwich!    Cheese shop folks believe in kindness, intention – in showing up for our customers as they do for us.
Justin
Chef & Deli Co-Manager
Long-time player, makes the best tenderloin of your life.
Mike
Wine & Beer Buyer
A former geologist with a heart of hops.
The Crew
Ready to guide our guests with our vast cheeses and dry good selections, these friendly folks will also make you a fantastic lunch, or help with your catering needs.
Proprietor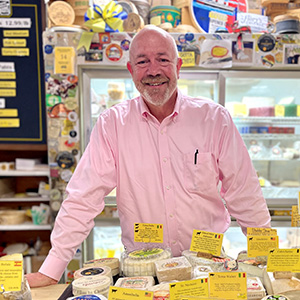 Peter
"Bold and proud, and cute as a button"