One of the best cheese shops anywhere! Plus, one of the most delicious lunch options in downtown Concord from this secret deli in the back of the shop!
Not only does this place carry an extraordinary amount of cheese from all over the world but, the wine selection and sandwiches are legit too! The staff is super helpful
Love this place with its rustic ambiance and excellent selection of cheeses. The wines are also very interesting, and the person in charge exceedingly knowledgeable and passionate about the wines he chooses.
Of all the specialty cheese/gourmet shops I've visited in New England, this is far and away the best. You take a number, and when it comes up you have the full attention of your cheesemonger until you have everything you need. They are only focused on you.
Love the variety of other pairing items like breads, jams, candies, wines, etc…The staff was incredibly nice and knowledgeable. When I walked in, was greeted with a warm smile, offered samples and informed about a few of the seasonal cheeses just in
You know you are a cheese lover when you're drooling over a 400-lb slab of cheese. Or maybe you're just really hungry.
Best cheese shop around. Unlimited selection and employees knowledgeable. Cute one of a kind store and would recommend to anyone visiting Concord Center.
Check out videos about the shop, cheese, and more
We love food. We love to eat. We love what we do. All the way. There is a precious intimacy, particularly in a harried world like ours, in the exchange of food between strangers. The personal connection between each of us and you is of the highest priority. Each new employee is asked what they think we sell here. The answers vary, and some think they're right with "fine foods" or "fresh food" but that's not it. We offer a customer experience.
Here, you are served – yes, there is the necessary of exchange of goods and cash, but we are here because we believe in a considerate and compassionate and playful customer experience. One must eat to live, but why would one leave it at that? We are here to advocate on behalf of the food, where is comes from and who makes it, and we are here to advocate on behalf of you, for you to relish what you eat, and be nourished in body and in mind.
Justin
Chef & Deli Co-Manager
Long-time player, makes the best tenderloin of your life.
Mike
Wine & Beer Buyer
A former geologist with a heart of hops.
The Crew
Alex, Elliot, Evelyn, John, Kurt, Mary, Meg, Myo, Nick, and Tony.
Ready to guide our guests with our vast cheeses and dry good selections, these friendly folks will also make you a fantastic lunch, or help with your catering needs.
Proprietor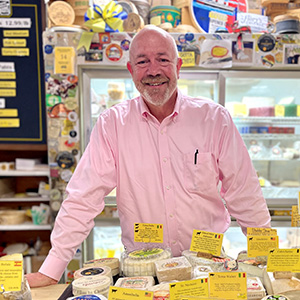 Peter
"Bold and proud, and cute as a button"