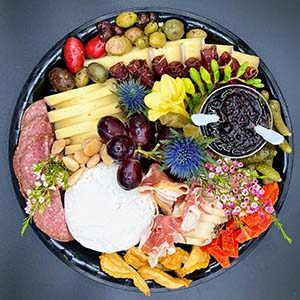 Catering
We cater myriad events!
As purveyors of fine food, wine and cheese, we invite you to consider us in helping you create the menu for your next social gathering.
Before placing your order please inform us if anyone in your party has a food allergy.  Please call the shop, or email [email protected].
Every Day Take-Out and Catering
Due to seasonal availability, we reserve the right to make product substitutions. The utmost care will be taken to ensure that any substitutions made are for products of equal or greater value and quality. We would appreciate orders of 12 or more to be called in anytime by 5:30 pm on the previous day (excluding Sun/Mon).