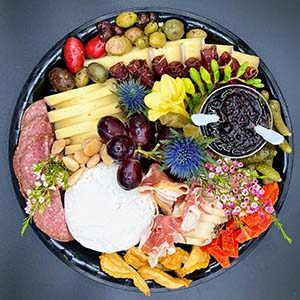 We'd love to cater your wedding, Bar Mitzvah, going away, coming home, retirement, new hires, corporate retreat, company outing, and client meeting. You name the time and place, and we'll stuff you so full of delicious, artisanal food, you'll feel like a piñata ready for beating.
Before placing your order please inform your server if a person in your party has a food allergy.
Every Day Take-Out and Catering
…served con mucho gusto. Due to seasonal availability, we reserve the right to make product substitutions. The utmost care will be taken to ensure that any substitutions made are for products of equal or greater value and quality. We would appreciate orders of 12 or more to be called or faxed in anytime by 5:30 pm on the previous day.
The Cheese Shop Winter Holiday Menu – 2022
We're ready to help you celebrate the holidays, on Sunday, May 8th.
Please place your orders by 1 pm on Saturday December 17th.
Appetizers & Platters
Cheese & Charcuterie Platter – A selection of perfectly aged cheeses and cured meats with dried fruits, nuts and savory accompaniments.  The Chef & Cheesemongers will choose the cheeses and meats for these platters, no substitutions.
Small – serves up to 10 people (4 cheese & 2 meats): $95.00
Medium – serves up to 15 people (5 cheese & 3 meats): $150.00
Large – serves up to 20 people (6 cheese & 4 meats): $195.00
Shrimp Cocktail Platter (serves 10 people): $100.00
Perfectly poached extra-large shrimp paired with house made cocktail sauce
Puff Pastry wrapped Brie (serves 6-8 people): $30.00
Choice of Filling:
• Cranberry Pecan
• Fig Jam
Savory Pies
Savory pies are $30 and may be made Gluten free for a $2 charge.  Please circle "Gluten Free" next to the item ordered to indicate if you would like yours gluten free.
Artichoke Pie (Gluten Free)
Artichoke hearts & sautéed onions with cheeses, eggs & spices baked in a house made pie shell
Tourtiere (Gluten Free)
Traditional Canadian beef & Pork pie with onions, potatoes and spices baked in a house made pie shell
Breads
Bread Obsessions Baguette: $6.00 each
Iggy's Dinner Rolls: $4.50 per ½ doz
Iggy's Cranberry Walnut Rolls: $7.50 per ½ doz
Desserts
Konditor Meister Stollen: $40.00
Konditor Meister Buche de Noel (serves 8): $60.00
Cinnamon Mixed Nut Bread
• Half Braid: $15.00
• Whole Braid: $30.00